<![if !vml]><![endif]>
September 28th, 2006
Click on the Images below to enlarge
• SPOTLIGHT •

The new ORBITFEED® riveting system feeds and fastens your rivets all in the same station. No need to transfer your product from station to station. This machine is offered in the following solid mild steel rivet diameter capacities; for 3mm, 5mm, 8mm, 12mm and 16mm rivet diameters.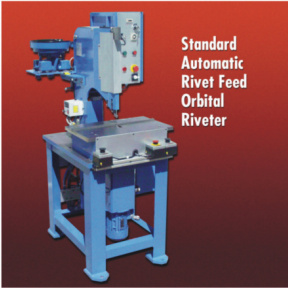 Machinery features; automatic lubrication system to supply a precise amount of lubrication to the Twin Spin Roll forming dies each and every cycle, rivet to a precise back pressure, fasten rivets at different elevations, micrometer adjustment for the machine quill and PLC control if required. Automatic load of your rivets with the head up and the rivet or rivets are fastened automatically on the bottom side. This machine will complete one complete riveting cycle approximately in 1 to 2 seconds.

An automatic rivet feed system is dependant upon the rivet style and length. Please inquire with Grant Inside Engineering and see how we can assist you with your application requirements.

Grant Riveters increases Orbital Riveter Warranty to Two Years!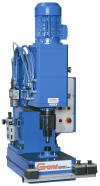 Click on the image to enlarge


---
Recent Media Coverage

November 2004 - The Grant Manufacturing and Machine Company is to be recognized by the Connecticut Labor Department and the State of Connecticut's Department of Economic Development for its achievement over the past 125 years and recognized as Connecticut's Oldest Machine Tool Builder.

"Riveting Methods" Assembly Magazine, January, 1992

"Named Connecticut's Oldest Machine Tool Builder" June, 1991

"Loose Rivets" Assembly Magazine, February, 2001
---